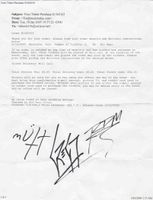 So I take half a day off from work, vacation. Shawn and I head up there around 1:30 and get there about 4 hours later. We made good time and got close to the front of the line. There were a few guys already there waiting so we hung out waiting for the doors to open. We had a lot of fun waiting, cutting up, and harrassing the bouncers.
The crowd started to gather and it got cold as hell. Around 7, the bouncers come out and announce that Chad, the lead singer, is very sick and can neither talk nor sing.
So we were pretty bummed about making that long drive for nothing. We went inside and I got some autographs, (see my will call printout above) and we headed back home. The band has promised to reschedule.
I'm not upset or anything, just disappointed. Check the link in the title to see the message board relating to our wait before the concert.